Welcome to the Signhamontra
The Newest Boutique Hotel in Chiang Mai
from the Chiang mai International Airport . The boutique style Hotel is designed and built by applying the Northern Royal Palace style and the classical Lanna cultural arts. The Hotel is surrounded by the old Lanna cultural Arts in the Waulai community such as the old beautiful Temples, silver wares, wood curving shops and more. It is very near to the weekly event of
'Walking Street' along the shopping center Areas. The Hotel has both , Single and twin beds.
Each room has its own beautifully designed Lanna styles and Jacuzzi bath . which you can take for relaxation and sit outsideundisturbed and enjoy the beautiful scenery and the moon rising up and the star.
The Singha Montra Hotel Jacuzzi Suit is very comfortable, especially, for the family . In each
suit you will find air condition , a 32" LCD Television, coffee machine, Hair dryer, WiFi. For relaxation , just take outdoor Jacuzzi bath at any time. And sit outside undisturbed and enjoy the beautiful scenery around the Hotel and the moon rising up .The Hotel is well equipped with most modern equipment. Delicious Thai Lanna or European food can be served , cooked by our well trained staff.
We would be delighted to welcome you . Make yourself at Home and indulge"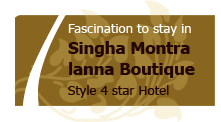 Fascination to stay in Singha Montra lanna Boutique Style 4 star Hotel


1. Location in the city.
- Five minutes drive from Chiangmai international Airport
- Five minutes by walk to the Saturday Market walking street.
2. First impression with hotel decoration applying from The Royal Lanna Palace and Lanna cultural art.
3. Warm and attentive service.
4. Romantic Atmophere.
5. Relaxation with Private Jaccuzi.
6. Best available rate guaranteed.
7. Satisfactory rating from the guest.